More Venues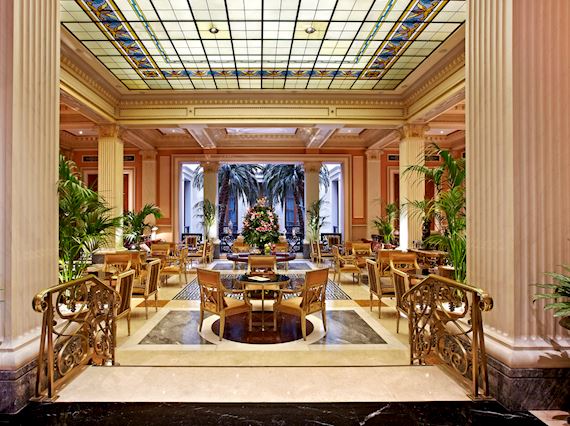 Winter Garden
Next to the Lobby of the Hotel Grande Bretagne, the Winter Garden is undoubtedly the most elegant corner in the heart of Athens. Ideal for meetings and discussions, accompanied by a hot cup of tea, chocolate or coffee and most delicious sweet or savory tastes. Befitting a movie set - live piano music perfectly matches its iconic atmosphere. Marble floors and four imposing columns enhance the air of opulence. Two towering palm trees create an exotic backdrop while natural light spills through a fine vitro ceiling.

Green accents embellish hues of pomegranate and orange embracing guests with the luxury of relaxation. Polished silverware, translucent porcelain and crystal glasses compose absolute elegance for the unique culinary experience at the historic Athenian hotel.

Browse the Winter Garden's decadent menu here
Operating Hours: Winter Garden will remain closed until further notice.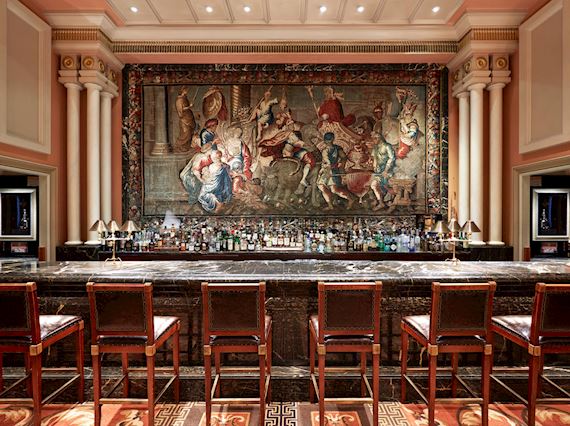 Alexander's Bar
The beloved 18th century tapestry of Alexander the Great is the focal point of the Alexander's Bar, next to the Winter Garden Lounge. With its clubby atmosphere you will want to linger over a classic cocktail, a refined brandy or an exquisite cognac.
There are many reasons why the famous Alexander's bar in Athens was voted as the Best Hotel Bar in the world by Forbes magazine, starting with its undeniably warm and relaxing atmosphere. The authentic & rare 18th century tapestry, featuring Alexander the Great entering into Gaugamela, is a trademark fixture of the hotel, proudly hanged by the radiant wooden bar.
The equally impressive drinks menu includes such connoisseur choices of the famous extra rare single malt Macallan series of 1937, 1940, 1946, 1952, 1969, 1973, and the astonishing Luis XIII Black Perl edition.
Operation hours:
Alexander's Bar will remain closed until further notice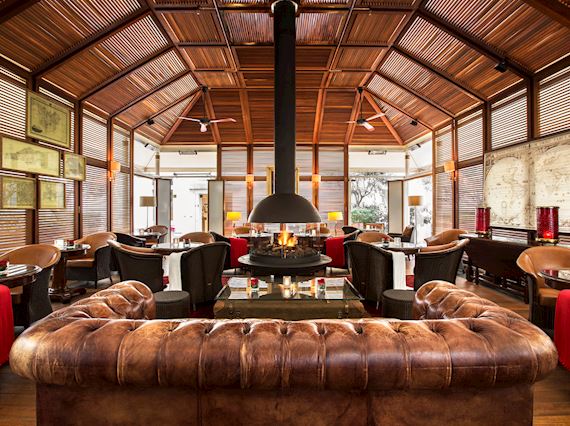 Alexander's Lounge
Experience luxury in the most up to date cigar bar in town. Alexander's Lounge is a sophisticated space located in the inner garden of the Hotel Grande Bretagne and offers an ideal setting for enjoying fine cigars, wines, liquors, coffee or tea with a friendly and discreet service. With its colonial elegance and warm atmosphere, it is a unique place for relaxation.
Explore a great selection of Cuban cigars with unique flavors and enriching aromas. The variety available includes blends such as mild, medium bodied and full bodied cigars. Their tobacco blend is exceptional and all of them are "hecho a mano"- handmade.
As for the sizes you can taste mythic vitolas like gran coronas, lonsdales, figurados, robustos and models like petit coronas. Amongst others, the high level service includes cutting and lighting of cigars and their marriage with drinks.
Operation hours:
Alexander's Lounge will remain closed until further notice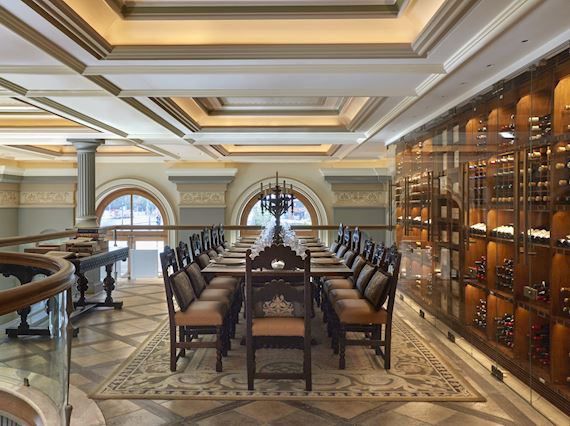 The Wine Library
We proudly introduce you to a unique setting, the Wine Library, located at the mezzanine of the GB Corner at the Hotel Grande Bretagne, a distinct "library", showcasing all the 3.500 wine labels of the historic hotel.

The impressive 19th - century table serves for private wine tastings and unique wine pairing meetings, while the wines are stored to the appropriate temperature within the eye-catching glassy showcase.

Let the Head Sommelier of the Hotel Grande Bretagne, Evangelos Psofidis, introduce you to indigenous Greek and international varieties, as well as propose the wine that exclusively responds to your taste preferences.

For information, please call at (+30) 210 3330 766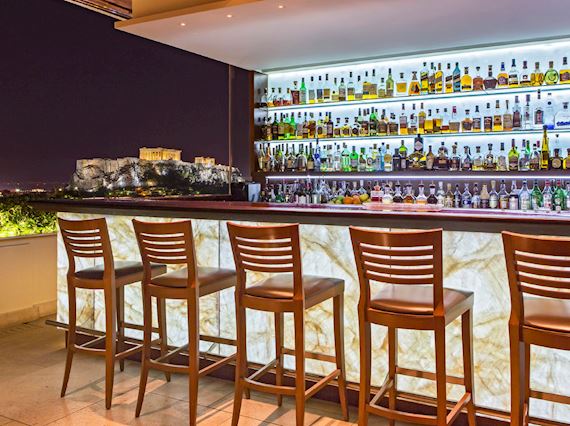 GB Roof Bar
The bar of the GB Roof Garden Restaurant allows you to enjoy breathtaking views of the Acropolis along with any of the 50 cocktails available, while watching them being prepared by our professional bartenders.
Before a romantic dinner or for a night out, enjoy an aperitivo and experience the enchanting atmosphere from the roof of the Hotel Grande Bretagne.
Operating hours: The bar
will remain closed until further notice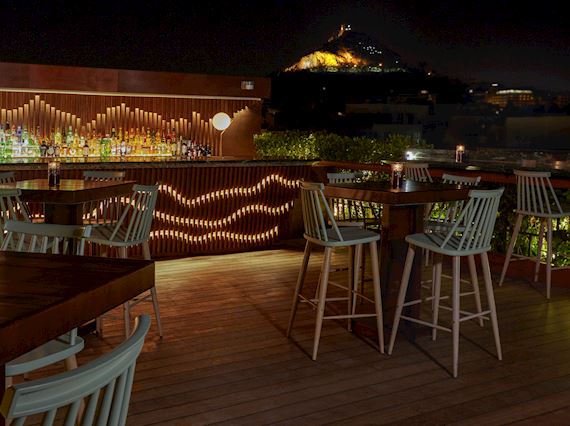 Bar 8
The open-air bar overlooks the lush Lycabettus Hill and Athens from above while the relaxed atmosphere turns it into the ultimate place-to-be!
Explore & enjoy original cocktails that travel you to tropical destinations, including the famous «Zombie» cocktail that uniquely combines three different kinds of rum, satisfying even the most discerning guests. As for the Martini lovers, the variety of 8 different original recipes will definitely not leave you indifferent.
Operating hours:
19:00 - 02:00 (seasonal operation starting on May 2019 - November, weather permitting)
Bar 8 operates a no-reservation policy.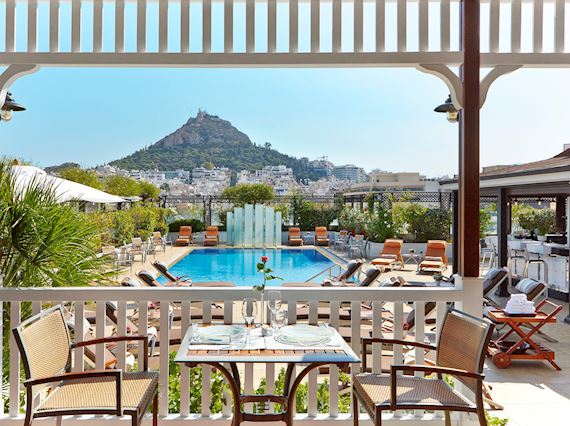 GB Pool Bar
Indulge under the Athenian sun at the GB Pool Bar of the Hotel Grande Bretagne and enjoy authentic Greek cuisine specially prepared by our Chef, or light and healthy meals accompanied by rejuvenating cocktails.
Located on the 7th floor, our tranquil rooftop Pool Bar offers magnificent views of Lycabettus Hill and an illuminated Athens below. Decorated with pergolas and aromatic plants, with modern sun lounges, tables and comfortable chairs scattered around the pool's perimeter, our GB Pool Bar is an ideal spot to relax and escape from your daily routine.
Cuisine:
Greek & light snacks
Pool Bar Operation Hours:
11:00am - 5:30pm (May 2019 - end October 2019; seasonal operation; for hotel residents only)
Food Service:
12:00pm - 5:00pm
Swimming Pool Operation Hours:
10:00am - 6:00pm (weather permitted; with a lifeguard on duty; seasonal operation; for hotel residents only).
GB Corner Gifts & Flavors
The most renowned 'corner of Athens' welcomes you to a magic world filled with unique shopping and gift ideas. Explore the authentic selection of GB Products, the Zeus + Dione handmade fashion clothing and an exclusive variety of indigenous delicacies by French Pastry Chef Arnaud Larher.
Operation hours:
GB Corner Gift shop will remain closed until further notice